My Namesake: Louisa Jane Orr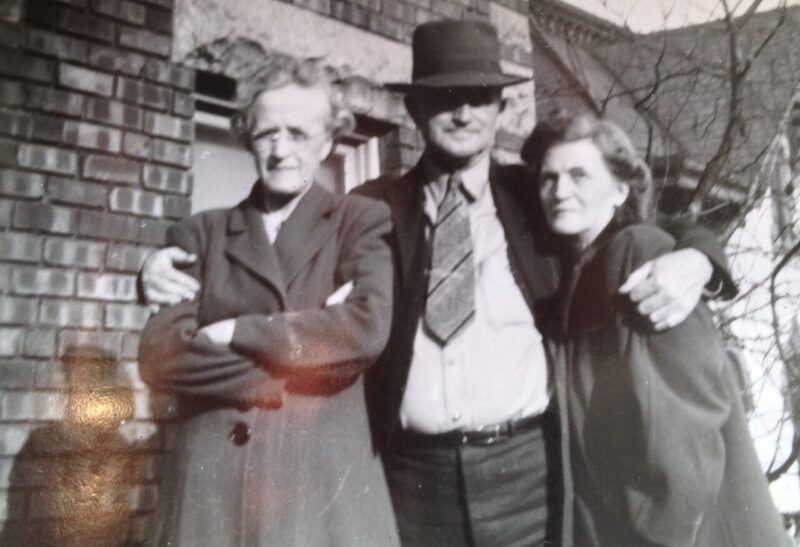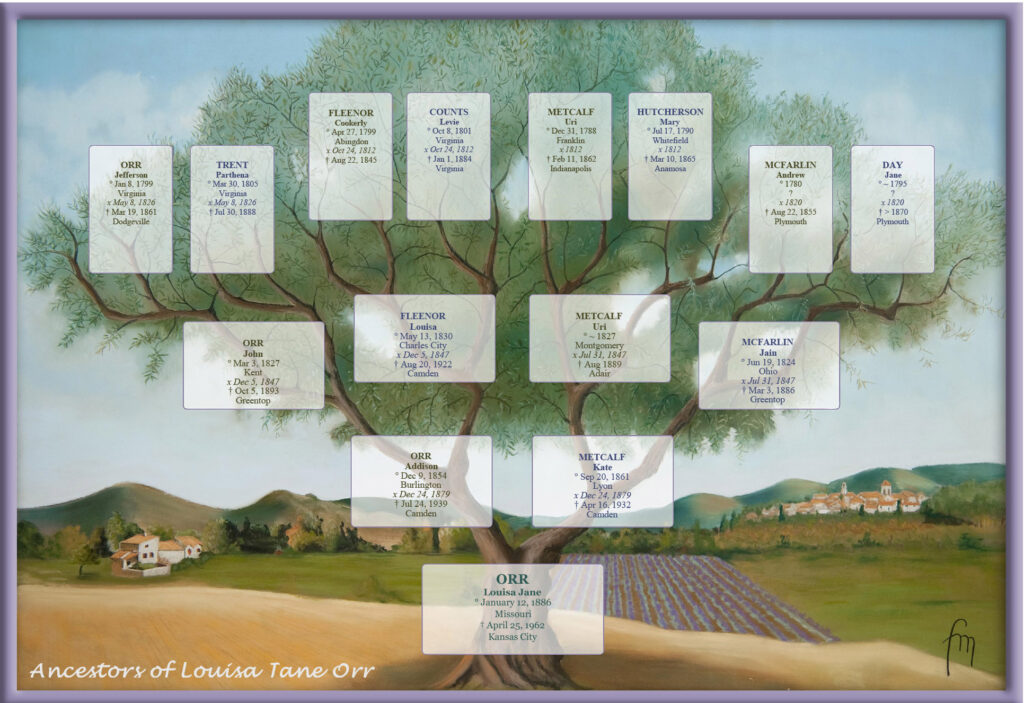 I was named after my father Donald Frederick Malter. I could tell you about my father, but it might comprise a book, and its last page is far from written.
My middle name is Louise. As I was pondering the prompt, "Namesake," I realized how little I knew about my Aunt Louise, except that she was the elder sister of my great-grandmother Adra Olive Orr Johnson, after whom my mother Olive is named. I remember my great-grandmother, but I was born two years after Aunt Louise died. I don't recall anyone ever talking about her.
A little research revealed that she was, in fact, named Louisa Jane Craven, nee Orr, that she died in 1962 in Kansas City, that she was divorced, and that she was a retired bank teller. It was a start. What is a life, really, after you're gone, but the memories of those who shared an overlapping fragment of your moment in time? So many deceased ancestors exist only in digitized text and maybe a photo with their names lovingly scrawled on the back. I am fortunate to have living relatives who remember my Aunt Jane, and I was able to call them for more information.
Louisa (loo-EYE-zah) Jane Orr was born on January 12, 1886, in Bevier, Missouri, the daughter of Attison (or Addison) Milton Orr and Katherine Olive ("Kate) Metcalf.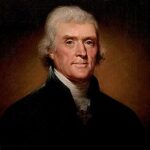 Although she may not have known it, Louisa came from a lofty family line: through her paternal line, she was descended from Christopher Branch Jr., who was also the great grandfather of Thomas Jefferson, making her a 3rd cousin thrice removed of my favorite Founding Father. (Orr >> Trent >> Branch)
Louisa even had royalty in her veins. Through her maternal line, her 7th great-grandfather Robert Abell immigrated from Derby, England, to Weymouth, Massachusetts, in 1630. Robert Abell is a "gateway ancestor,"  the alphabetical first in a list of early American immigrants whose line of ascendancy can be documented back to Charlemagne. Charlemagne, Charles I, was the King of the Franks from 768, the King of the Lombards from 774, and the Emperor of the Romansfrom 800. During the Early Middle Ages, he united the majority of western and central Europe. He was later canonised by Antipope Paschal III. (As exciting as that sounds, it is estimated that nearly three-fourths of Americans who can trace their lineage to Colonial descent are also descended from Charlmagne. Dude was prolific! See also "Am I Related to Royalty?") (Metcalf >> Abell >> Charlemagne)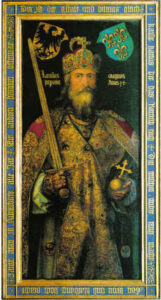 But that's all a far cry from Greentop, Missouri.  Louisa's maternal great-grandfather Uri Metcalf Sr. had moved from Massachusetts to Ohio to Indiana (where he was the first blacksmith in Marshall, Indiana, in 1820) to Illinois to Iowa, following land grants., and never very successfully. There were lawsuits and foreclosures. Uri Sr. had been President of the Illinois Abolitionist Party. At age 72, he enlisted to fight for the Union against slavery, and he died ten days later of a stroke while training in Indianapolis.
Louisa Jane's grandfather, Uri Jr., moved to Greentop from Iowa, where her mother Katherine Olive Metcalf was born, to open a woolen mill. Louisa's namesake was her paternal grandmother, Louisa Fleenor, who had come to Missouri from an esteemed (and prolific) Virginia family, to marry John Williamson Orr.
Louisa's father, Attison Milton Orr had come to Greentop as a child, also from Iowa, between 1860 and 1870. He was a farmer, married to Kate on December 24, 1879 at her parents home.  Attison and Kate had their first child, Andrew, in 1880, followed by Leila, Louisa and finally, seventeen years later, my great-grandmother Adra Olive Orr Johnson. There were other babies, at least four, who died as infants.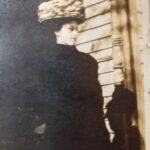 In 1903, Louisa's 21 year-old eldest sister Leila died, allegedly from a flu epidemic, although I can't find any reference to an epidemic that year. Her funeral was well attended and her obituary mentions that she was a faithful member of the First Baptist Church.
Louisa graduated from Bevier High School in 1904. Shortly thereafter, the family moved to Camden, Missouri, where her father was employed as a carpenter.  Camden, according to The History of Ray County, Mo., was "situated on the north bank of the Missouri river, on the Wabash, St. Louis & Pacific Railway, five miles west of Richmond and Lexington Junction, and six miles southwest of Richmond, was incorporated in May, 1838."  In 1910, Camden had eight stores, two hotels, two school houses, one church -- owned and used by all denominations -- and one large flouring mill. It also had a coal mine.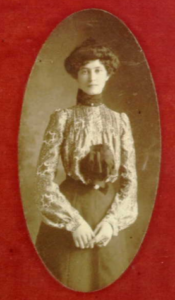 In 1911, on December 23, and at the age of 25, Louisa married Erwin Elwood Cravens in Richmond, Ray County, Missouri.  His draft registration card lists him as tall, blond and blue-eyed, which makes sense because my Aunt Louisa was a tall woman herself, nearly 5'10". She was an expert milliner and seamstress, probably because if she wanted lovely clothes, she had to sew them herself.
Two years later their daughter Marjorie was born. (Marjorie's name is variously listed on Censuses as Margaret and Margarite.)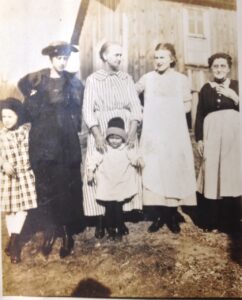 My Aunt Louisa, a rare high school graduate (the school in Camden ended at grade eight), took work as a bookkeeper, managing the company store for the coal mine. Her manager at the store was Albert Sydney Johnson, my great-great-grandfather who had immigrated from Sweden. His son, the handsome and affable coal miner Olie Johnson married Louisa's little sister, my great-grandmother Adra Olive Orr, on December 23, 1916.  My grandmother Beverly came along in 1917, and her brother Andrew in 1921.
By 1920, Louisa and Marjorie were living with her parents in Camden (along with grandmother Louisa Fleenor), while Erwin had gone to Kansas City to work as a lineman and was living in a boardinghouse. On the census, he listed his marital status as "Married" but she was, oddly, "Widowed."
Their home had the first kitchen cabinets in Camden, built lovingly by hand by an aging Attison Orr.
The company store existed on the bluffs of the Missouri River and became a family gathering spot. I remember my grandmother telling me that she had learned to drive in the truck owned by the coal mine, and that she made deliveries for the company store as soon as she could reach the pedals.  At age ten, she had to pay a few cents to get a driver's license -- no test, just a small fee, and she became a commercial driver when she could barely reach the pedals. The Missouri River was a major means of transport and recreation, then as now. My Uncle Andrew recalled seeing the vaudeville comedian Red Skelton floating down in a riverboat past the company store, which inspired him and my grandmother to put together their own vaudeville act in their teens. Aunt Jane had enough money to purchase a piano and lessons for her daughter Margery. Margery then taught my Uncle Andrew, eight years her junior, everything she had learned. Uncle Andrew was a dear man, and a talented (and committed) piano player his entire life. Grandma Louisa Fleenor died in Camden in 1922.
The depression hit Camden hard, as manufacturing and coal mining virtually ceased. The Orr/Craven family was so poor that they couldn't afford feed for their chickens, but they were more fortunate than most. A monied family benefactor from Indiana moved to Camden and purchased food, clothing and other essentials, but there was never enough. Health declined from lack of nutrition. Louisa's mother Kate Orr died in 1932, followed by her father Attison in 1939.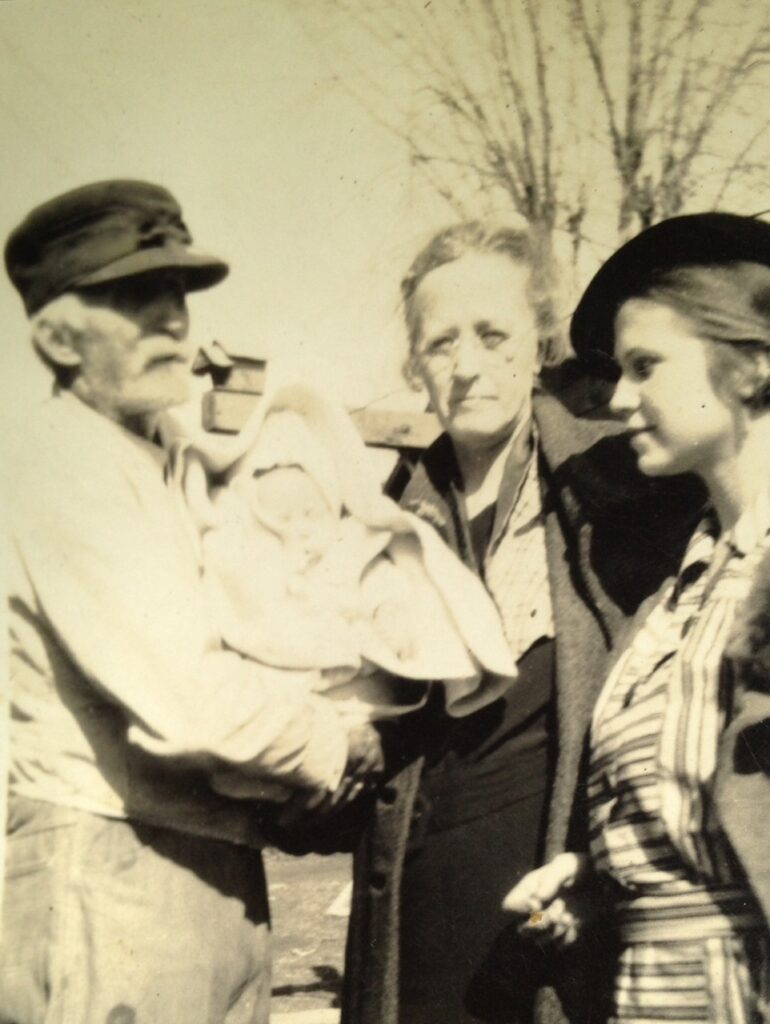 Sometime in the mid-1930s, Louisa and Marjorie moved to Kansas City to live with Erwin, where they rented a house on East 31st Street. Erwin worked for Ford Motor Company and Louisa got a job with the Federal Reserve. They must have been doing reasonably well as the rest of the nation recovered from the depression. Marjorie married and had Louisa's only grandson, Michael Jones, in 1933.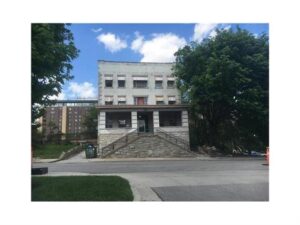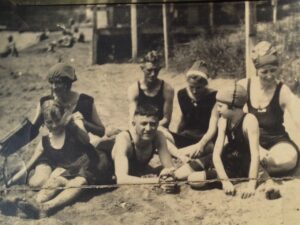 Early in the 1940s, my grandfather Olie Johnson took a job with Butler Manufacturing in Kansas City, and moved from Camden into the Wells Apartment at 612 E. Ninth St, which my Grandma Adra managed. Aunt Jane left her husband and moved into an apartment in the Wells, from where she could easily walk to her job at the Federal Reserve.  I don't know why they divorced, but I'm told that the women in my family have a habit of choosing bad partners and when they finally leave them, nobody ever talks about it. This is clearly another family trait that I inherited.
This is really where the story of my namesake begins, as this is the era of living, breathing memories. My mother remembers being a child, in the early 1950s, running back and forth between her grandparents' apartment and her Aunt Jane's down the hall.  In one of her earliest memories, Aunt Jane made her Rice Krispy treats in an 8X8 pan, the first she had ever tasted and "the most delicious thing" she'd ever eaten. Cousin Adra recalls a threadbare sofa where she slept in Olie and Adra's apartment, and the Murphy bed in Aunt Jane's smaller apartment where Aunt Jane slept. Aunt Jane taught her to sew clothes for her dolls, and took her to the Emery Bird department store, paid to have her photo taken with the "real" Santa. It was expense her own family could not afford. Aunt Jane dressed beautifully and wore fancy hats that she made herself.
In 1952, at the age of 66, Aunt Jane filed for social security and likely had a comfortable pension from her time at the Federal Reserve. She stayed at the Wells until she could no longer walk up the stairs to her apartment. Around 1960 she moved to Armour Oaks Memorial, where she lived until her death on April 26, 1962 from respiratory failure. She is buried at Mt. Moriah Cemetery in Kansas City.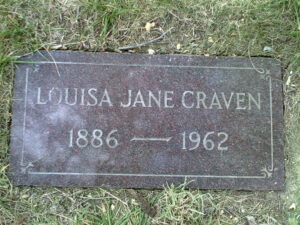 I see myself in Aunt Jane. I'm tall like her, and I have her long face and nose, strong cheekbones with a square, masculine chin. I am independent, good at numbers, a single working mom. I'm proud to be her namesake, wish I'd known her but with thanks to those who shared their memories, I know much more than I did last week.